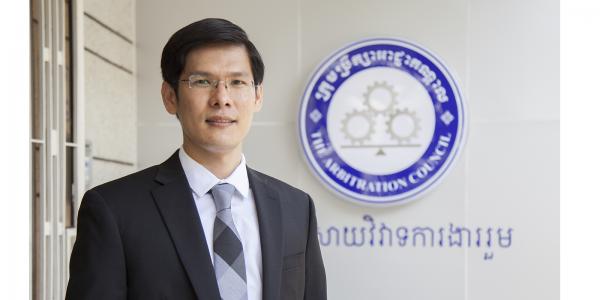 After serving the Arbitration Council Foundation for almost a decade, Mr. Sok Lor is moving on. A recent graduate of Harvard Law School, he is starting a new law practice in Phnom Penh, although he plans to remain active in strengthening industrial relations and economic and social development in Cambodia. In the Q&A below, Mr. Lor reflects on his experiences during his time with ACF -​ during which he rose from the position of Legal Officer in 2006, up to the top post as Executive Director – and the challenges and opportunities he sees for ACF, the Arbitration Council and Cambodia in the future.
How would you characterize the role you fulfilled as Executive Director of ACF?
It was a challenging responsibility. As Executive Director, I had to focus on ensuring the Arbitration Council and ACF delivered according to their mission by seeking the resources and support that was needed. The challenge was further complicated by the operating environment of limited pool of resources available as well as managing conflicts and tension between employers and workers. But then, as Executive Director, I had the mandate and leeway to mobilise employers, trade unions, government and international development agencies to pursue strategic courses of actions toward improving the state of industrial relations. For instance, after the stakeholders' support for the Memorandum on Promoting Industrial Relations in the Garment Industry was secured, it strengthened my resolve to introduce other industrial relations projects and programmes.
Can you share with us your view on the role of the Arbitration Council with respect to development in Cambodia?
The fact that the Arbitration Council's dispute resolution service has not only been accepted but also widely praised by employers and trade unions bears obvious testimony to its remarkable capability of labor justice delivery. In a country like Cambodia where the people have been quite dissatisfied with the overall state-administered justice services, such distinct performance of the Council could be called a miracle. To get a sense of how much the Arbitration Council has contributed, one can look at the performance of garment industry as it has received the most help from the Council. As the Council helped to resolve disputes and stop numerous strikes, monthly minimum wage for workers almost tripled from $45 in 2003 to $128 in 2015 while the volume of the garment export grew from about $1.6 billon to approximately $5.3 billion in a similar period.
The spillover effect of the Arbitration Council is also beyond doubt. Look at higher education institutions like universities. There, law and business professors and students now refer to the AC's published decisions for their case studies. These kind of resources – deeply researched analysis and decisions that raise critical issues about law, justice, economics and governance, and produced by Cambodians for Cambodians – were unavailable before the AC was established. These materials have certainly joined public domain and helped advance the society's knowledge.
However, paramount to its direct economic and social benefits, I think the Arbitration Council's success should be seen as a symbol of hope, inspiration and possibilities for Cambodia as it is seeking to bring back on track and to modernise the public services that had had been brought to their knees by years of chronic internal conflicts. One can draw a vivid reminder here: it is possible for justice institutions to receive the support from their clients, and more broadly the people, if they are carefully and purposefully designed, professionally governed, sufficiently resourced, and given the needed space to execute what they are mandated to deliver.
What is the outlook for the Arbitration Council in the future?
It is essential that the Arbitration Council as a justice institution continues to resolve labor disputes per its intended function. The work of the AC is likely to be influenced by new regional and national developments, including the potential inflow of foreign skilled labor as a result of ASEAN Economic Community 2015 and the government's policy shift to diversify the industrial base beyond garments. This means that upgrades in knowledge and skills of its professionals will be needed to respond to these new developments.
At the same time, there are current gaps in the industrial relations system that should be filled so the industrial relations environment can see further improvement. For instance, the realm of education, registration, and monitoring of collective bargaining agreements in Cambodia, although significant for industrial relation stability, has not received the attention it deserves. Such function should be given to the AC as it is well equipped with industrial relations experts and has the track record to deliver. To materalise the goal, it would require the courage and willingness from industrial relations stakeholders, including the government, to experiment with innovative institutional arrangements such as public-private partnerships.
What lessons did you learn from the Masters of Law program and Harvard Law School that can be adapted in Cambodian context?
I was blessed to go through the education at Harvard University, where I pinned my interest on how to formulate effective legal policy to facilitate – and not unnecessarily hinder – the progress and development of a country. The lessons are numerous, but if I could pick only one term to describe it, that would be "Innovation". At Harvard University, you gain a competitive edge when you embrace multiple disciplines when devising solutions to society or business problems. For instance, to resolve crime issues in a city, the policy measure would go beyond the field of law to cover urban planning, sociology, economics, and the fast-changing field of information technology, among other disciplines. The mix of these disciplines has produced countless possibilities for innovation.
Do you have any specific plan after returning to Cambodia?
I will continue to provide support the Arbitration Council Foundation as a member of its International Advisory Board. Apart from that, I have recently established SOK XING & HWANG, a new law office focused on providing objective strategic legal and business advice to leading businesses, corporations and investors, as well as government and non-government agencies to help facilitate foreign investment in labour intensive industries in Cambodia. It will be an opportunity to use the knowledge of legal and business issues – from both Cambodian and international perspectives – which I have acquired not only from Harvard Law School, but also through my years of work with the Arbitration Council and ACF at the intersection of public policy, corporate social responsibility and governance, and economic and social development.