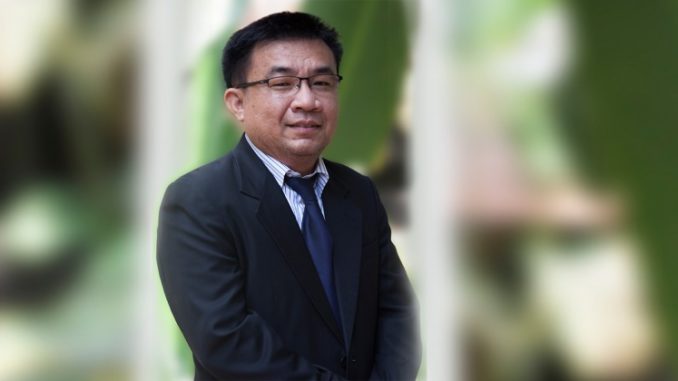 "Internal motivation is the most important factor that can lead you into a path of success," said Arbitrator Kong Phallack who has overcome many difficulties in life to become a highly recognized legal professional in Cambodia and the region.
Born in Pursat province in 1972 Arbitrator Phallack has encountered bitter and sweet experiences in life through a number of regimes: namely, the People's Democratic of Kampuchea (Khmer Rouge regime), People's Republic of Kampuchea, the State of Cambodia, and the current Kingdom of Cambodia.
While recalling his life in the past when his family had no proper accommodation and had to follow his uncle who was a soldier and stayed in the military camp, he said "I cannot believe I become a person I am today."
Arbitrator Phallack's Father and his two younger brothers died during the Khmer Rouge Regime after Khmer Rouge soldiers captured his father and he never returned, while his two younger brothers died of starvation. His mother was the only breadwinner in the family and she had to work very hard to support his living and study.
As a fatherless child in society, he was strongly committed to studying hard and return to his mother, to honour her and command the respect of the community as a capable widow who completed her mission to successfully bring up her children. "Despite her business demands, my mother always reminded me to study and taught me what she knows…, said Arbitrator Phallack.
Arbitrator Phallack commenced his primary education in Prey Nhy Primary School, and his Junior and High School education at Pursat Junior and High Schools in Pursat Province. Since he started school, he consistently received the first rank with great academic achievements and rewards from the Schools and the Ministry of Education. After completing High School in 1989, Arbitrator Phallack came to Phnom Penh to stay at Phiphort Rainsy Pagoda to pursue his study at the university level. He obtained his Doctor Degree in Dentistry in 1996 from the Royal University of Health Science, Bachelor of laws from the Royal University of Laws and Economics, and Master of Laws from Nagoya University, Graduate School of Law, Japan. Besides his academic degrees, Arbitrator Phallack also took dozens of specialized courses, such as Newspaper writing, negotiation and mediation, accounting, intellectual property, tax, project management, and strategic plan development etc.
Arbitrator Phallack started his first job as a cook while he was a student and later he moved to dentistry and finally settled down in the area of law and justice. He has wide range of work experience with the United Nations Transitional Authority in Cambodia (UNTAC), the government, development partners, civil societies, private sector, political sectors, academic and legal profession. This experience has made Arbitrator Phallack a unique person with a deep knowledge of contemporary Cambodia and the region.
Arbitrator Phallack attributes his achievements to a saying of Krom Ngoy, the Father of Khmer Poetry, which is "Fortune Favours the Bold". This means if we have a clear skill, we can earn money easily. In addition, Arbitrator Phallack divides his true success as a letter V with Index Finger and Thumb Shape (Phallack's Theory of Success). Under Phallack's theory of success, four factors rely on us and one factor is an external factor (see his Finger Shape Theory). That means we drive our own success in life and career.
Beside Theory of success, Arbitrator Phallack also has developed his milestone theory to help him move from one step to another. Phallack's milestone theory is a thinking theory. That means prior doing things, firstly, we have to think of C.  'C' stands for Confidence. It means that, you need to ask yourself what you can do and then build your confidence; Secondly we have to think of F. 'F' stand for Focus, meaning you have to focus or concentrate on your task and do it carefully and confidently; and Finally, we have to think of D.  'D' stands for Direction, meaning you have to set a clear destination to achieve your goal. To apply this theory, he suggests using a thinking tool he has created called "ThinkCLo". That means Think [Critically, Creatively, Capably, Comprehensively etc… and Logically]. When ThinkCLo is applied in milestone theory, we reach what we want to achieve.
Because of his background from a less fortunate family, Arbitrator Phallack has always had a vision to help the less fortunate. He strongly supports the concept of pro bono work or services, about which he has developed a new interpretation that aligns with "Metta", a Buddhist concept meaning a strong wish for the welfare and happiness of others. The idea of "hearted legal services" caught the essence of pro bono for many of the delegates from 20 countries attending the 1st Southeast Asia Pro Bono Conference held in Vientiane Laos in 2012. In practical terms it means Arbitrator Phallack arranges legal services or teaching either free of charge or at a minimal charge to those unable to afford the legal fee paid to lawyers an entities who work for the less fortunate.
Arbitrator Phallack, with more than ten years experience as an Arbitrator with the Council, recommends the following for anyone wishing to be an Arbitrator in the future: having the concept of Metta Service or must have a passion for social work; significant knowledge and understanding of the Labour Law, negotiation skills and how to make fair and reasonable arbitral decisions; and most importantly must act independently with integrity because the Arbitration Council is an independent institution providing fair, reasonable and just decisions for employees and employers.
Currently, Arbitrator Phallack also works as Dean of the Faculty of Law and Public Affairs of Paññāsāstra University of Cambodia and Chairman of the Board of Directors of the Arbitration Council Foundation. Recently he has been selected among arbitrators to be a regional mediator of the Compliance Advisory Ombudsman (CAO) which is the independent recourse & accountability mechanism for IFC & MIGA, World Bank Group.