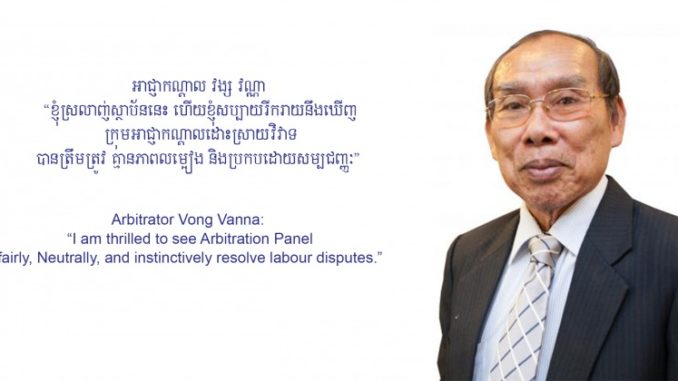 Speaking confidently in a deep voice, Mr. Vong Vanna's appearance belies his 73-year age. As a Cambodian citizen he has spent almost half of his life in the labour sector; initially in the capacity as an officer and later founder of the Ministry of Labour, a member in charge of drafting labour law, a labour law professor, one of the founding members of the Arbitration Council (AC), and an arbitrator from the time Cambodia descended into bloody civil war and mass killings, through to a period of rebirth and the Cambodia we see today.
Arbitrator Vanna was born in 1942 in Kous Village, Tramkok District, Takeo. He was the youngest of two brothers who lost their father before reaching even one year old. Reminiscing about a long life living under the care of his widowed mother, Vanna continuously praised his mother's patience and dexterity in raising and pushing her children to succeed.
Struggling with the knowledge he was leaving his mother on her own but fully supported by her to do so, Vanna left home and his mother after primary school to attend Kao Din Secondary School in Takeo, and then Yu Kun Thor High School in Phnom Penh where he lived with his brother. Vanna completed high school in 1966 and commenced his formal working life as a salesman at Sona Prime, a fabric import and export enterprise.
In 1969, motivated by his mother who wished to see Vanna serve as a government official, Vanna successfully took an exam to be a governor in charge of screening proposals sent from external entities to the Minister of Social Affairs and Labour.
At the end of 1979, after the downfall of Khmer Rouge regime, Vanna returned from his homeland where he served as farmer to Phnom Penh and began his career with Department of Labour Wages under the Ministry of Planning and here he was actively involved in rebuilding the Ministry of Social, Labour, and Veteran Affairs: "I longed to see this Ministry reborn because it is such a critically important state institution to help people through employment", he said.
In the following years, Vanna also contributed to drafting of the Insurance Law for Government Officials, Employees, Workers and Families (1983), the Law on Pension (1985), and the Labour Law (1992 & 1997).
After 7 years serving Cambodia as Director of Vocational Training Department, Arbitrator Vanna officially retired in 1997. He continued as a part-time professor specializing in Labour Law at Royal University of Law and Economics; since 1989 sharing his knowledge and expertise with new generations has been his favorite job. While he was a professor, Cambodia was in the early stages of rebuilding labour and industrial relations specialists' capacity, so he had ample opportunity to attend and participate in industrial relations events conducted in Japan, Malaysia, The Philippines, and Thailand under the support of the International Labor Organization (ILO).
In 2000, Vanna helped establish the AC although he was initially concerned as there were no full time staff serving the institution; however, his concerns were allayed as the AC moved forward with confidence and success, and continues so to this day. Vanna attributes this achievement to committed and consistent engagement from stakeholders including state institution, donors, and AC internal resources who are committed to integrity and fairness in fulfilling their duties.
"I love this institution and I am thrilled to see Arbitration Panel fairly, neutrally and instinctively resolve labour disputes", Vanna added.
Arbitrator Vanna's immense pride in the strength and capacity of the now fully-fledged AC, he strongly encourages AC members to work even harder to reinforce technical capability, professionalism and internal procedure and work rules to ensure the quality and independence of the AC service is available to the people of Cambodia.