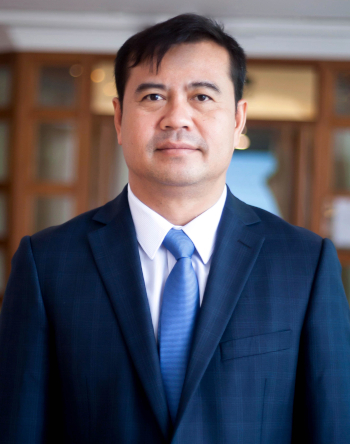 Arbitrator KAO Thach
Current position: Chief Executive Officer and Board member of The Rural Development Bank, Member of Supreme National Economic Council (SNEC),
Background:  He is Chief Executive Officer of The Rural Development Bank and a member of the RDB's Board. Before holding RDB's portfolio, he was Deputy Director General of the Securities and Exchange Commission of Cambodia and the Head of Financial Market Division, Financial Industry Department, Ministry of Economy and Finance. Working in law field, he used to be a legal officer in the Ministry of Justice and also in court. He was one of the key persons working toward the establishment of Securities and Exchange Commission and Cambodia Securities Exchange. Since joining the Ministry of Economy and Finance in 2003, he has undertaken numerous assignments relating to financial sector development in Cambodia. These assignments include member of working groups responsible for drafting Law on Government Securities and Law on Issuance and Trading of Non-government Securities, and member of working group responsible for developing Financial Development Strategy 2006-2915 and 2011-2020. As a representative of the Ministry of Economy and Finance he has been involved in various ASEAN working groups in relation to capital market development such ABMI, ACMF, and Financial Services Liberalization.
Education:
   –   Master of Laws from Bond University (Australia) in 2002, with an emphasis of International Trade Law System, WTO Legal Framework, Alternative Dispute Resolution, and Dispute System Design.
   –   Bachelor of Law from Royal University of Law and Economic Sciences, Phnom Penh, Cambodia,
Languages:  Khmer, English and French (Fluent).