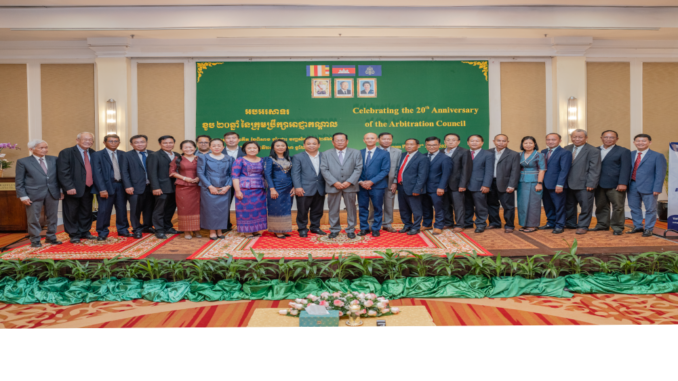 Phnom Penh: On 27 April 2023, the Ministry of Labour and Vocational Training co-organized with the Arbitration Council (AC) and the Arbitration Council Foundation (ACF) to celebrate the 20th nniversary of Arbitration Council. This event was participated by relevant stakeholders in labour sector, including employers' representatives, unions, donors, development partners, technical advisors, and members of the Arbitration Council, in a total of 100 participants including 32 women.
The Arbitration Council has performed its duties effectively, timely, transparently, and impartially with very fruitful results based on three principles: independence, credibility, and professionalism," said by Mrs. Sin Kim Sean, Representative of the Arbitration Council.
Oknha Sok Piseth, President of Cambodian Federation of Employers and Business Associations (CAMFEBA), on behalf of the employers' representative expressed a positive interest and confidence in the dispute resolution process at the Arbitration Council. "Effectiveness, transparency, and consistency of the Arbitral Awards have been recognized and trusted by the tripartite stakeholders." He said.
Meanwhile, Ms. Tep Kim Vannary, President of Cambodian Confederation of Trade Union (CCTU), on behalf of the unions and workers in Cambodia, said that the alternative dispute resolution at the Arbitration Council has contributed a lot in maintaining harmonious industrial relations. On behalf of the workers, she really appreciates the work that the Arbitration Council has achieved over the past 20 years.
His Excellency Dr. Ith Sam Heng, Minister of Labor and Vocational Training, expressed his high appreciation and satisfaction toward the Arbitration Council's work. The Arbitration Council has been performing effectively, timely, transparently, and impartially depending on three core values: independency, credibility, and professionalism. The AC has been trusted by relevant stakeholders, the Government, MoLVT, for its labour dispute resolution outside the court.
The Minister continued that disputing parties are free to nominate an Arbitrator from three respective lists of union, employer, and ministry. The labour dispute settlement by the Arbitration Council contributes enriching legal principles, labour regulations, policies, and principle of equity. In the near future, the Arbitration Council will expand its jurisdiction over individual dispute resolution.
Finally, on the occasion of the 20th anniversary of the Arbitration Council, the Minister delivered a certificate of appreciation to each of the Arbitrators for their invaluable contributions to the institution and harmonization of industrial relations.
The Arbitration Council has so far resolved 3,042 cases of collective disputes with a success rate of approximately 75%.