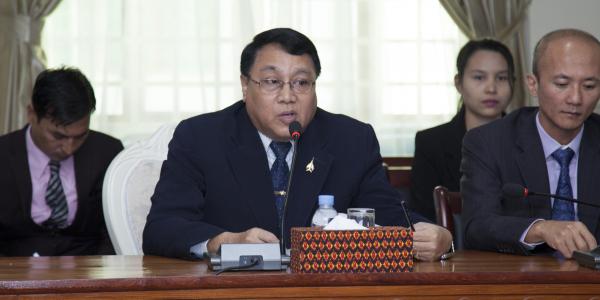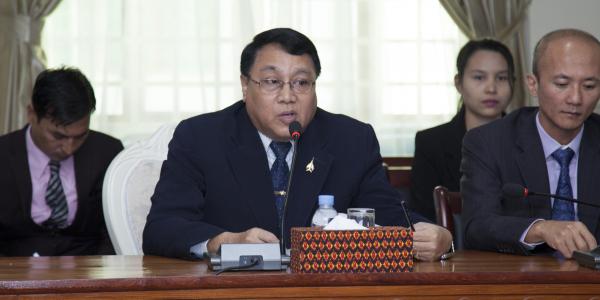 Arbitration Council Foundation (ACF) with a delegation from Myanmar Ministry of Labour, Employment, and Social Security and Arbitration Council were permitted to meet and pay courtesy to H.E. ITH Samheng, Minister of Labour and Vocational Training at the Ministry on 26 January 2016.
During the meeting, the Minister welcomed the Myanmar delegation and shared information about the history of Cambodian industry since the 1990s, the draft Law on Trade Unions, Minimum Wage Mechanism, and other industrial relations mechanisms including the Labour Advisory Group. The Minister also spoke about the importance of the Arbitration Council (AC) in resolving labour disputes; a significant challenge asindustry grows, and the number of federations and local trade unions increase.
"Ministry of Labour provides AC full independence in dispute resolution and parties accept AC decisions due to three factors: first, AC interpretation is based on legal provisions; second, legal reasoning is good and understandable; third, the decisions are not only supported by stakeholders but also trade partners, namely, buyers. The Ministry also supports the decisions and avoids making different interpretations," H.E. ITH Samheng stated.
The Minister added that the Ministry was working on sustainability of the AC and promoting the establishment of AC in various provinces in the long term.
Responding to a question from the Myanmar delegation regarding the proposed establishment of a labour court, the Minister claimed that AC was distinct from the labour court because AC is an alternative dispute resolution mechanism while the labour court would resolve its own cases through court processes.
H.E. U SAW NAING, Head of Myanmar delegation, extended his appreciation to the Minister of Labour and Vocational Training, the International Labour Organization in Myanmar (ILO), and AC for exchanging knowledge and experiences during his visit, which served to support better understanding regarding the different systems employed by each country.
The Myanmar delegation visited Cambodia after a Cambodian delegation, led by Mr. MEN Nimmith, ACF Executive Director along with Arbitrator AN Nan, and Mr. TENG Chesda, Senior Legal Officer, visited Rangoon and Nayyidaw in September 2015. The Cambodian team made the visit in response to an invitation by and in coordination with ILO Myanmar specifically to outline the arbitration system establishment, development and current status in Cambodia to Myanmar arbitration officials.