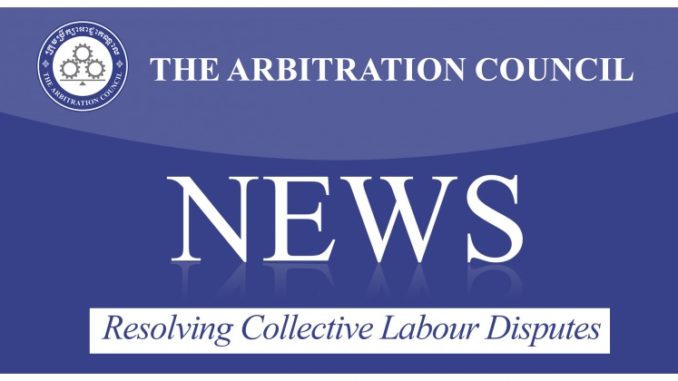 The Cambodian Arbitration Council and the Ministry of Labour and Vocational Training welcome Myanmar Arbitration Council for professional and regional labour dispute resolution and arbitration best practice exchange.
Phnom Penh, Cambodia: On Monday 25 January 2016, the Arbitration Council, Cambodia's premier labour dispute resolution body welcomes a delegation from the Myanmar Ministry of Labour, Employment and Social Security (MOLES) and the Myanmar Arbitration Council. The 18 person delegation, led by His Excellency, U Saw Naing, Director General of the Department of Labour Relations and supported by technical team from the ILO Freedom of Association and Social Dialogue project in Myanmar, are visiting to learn more about the Cambodia's labour dispute resolution systems – particularly the role of conciliation and arbitration. This visit follows a preliminary meeting between the two national arbitration institutions last year, from 16 to 23 September, during which the Arbitration Council was invited to speak in both Yangon and Nay Pyi Taw City on the establishment, structure and current operations of labour arbitration in Cambodia.
Regarding the significance of this next exchange, Arbitration Council Foundation Executive Director, Men Nimmith said: "Cambodia's Arbitration Council delegation appreciates the support from the Minister of Labour and Vocational Training and the opportunity to visit Myanmar last year. It was a true delight to discuss labour arbitration and industrial relations issues in the context of a situation similar to that of Cambodia about a decade ago. The uniqueness, model, and success story of the Cambodian arbitration system were points of interest for Myanmar. Myanmar's strong commitment to economic growth, and Cambodia's eagerness to cooperate and learn more, play a very important role in promoting a long term commitment for regional cooperation and development."
The delegation will be in Cambodia for four (4) days and will pay a courtesy visit to His Excellency Ith Sam Heng, Minister of Labour and Vocational Training, and hold a series of meetings with members of the Arbitration Council, Arbitration Council Foundation, Department of Dispute Resolution, Better Factories Cambodia (ILO) and key industrial relations stakeholders.
About the Arbitration Council: Established in Cambodia for almost 13 years, the AC provides free collective labour dispute resolution services to the community. The AC operations are supported by the Arbitration Council Foundation, a non-governmental organization, and the Secretariat of the Arbitration Council, an out-posting of the Ministry of Labour and Vocational Training. Together these institutions have brought 73% of cases registered to a successful conclusion. More information about the Arbitration Council and the Arbitration Council Foundation: www.arbitrationcouncil.org
Contact: Ms. ANN Vireak
Tel: (855) 23 881 814
Mobile: (855) 12 47 14 76
Email: vann@arbitrationcouncil.org