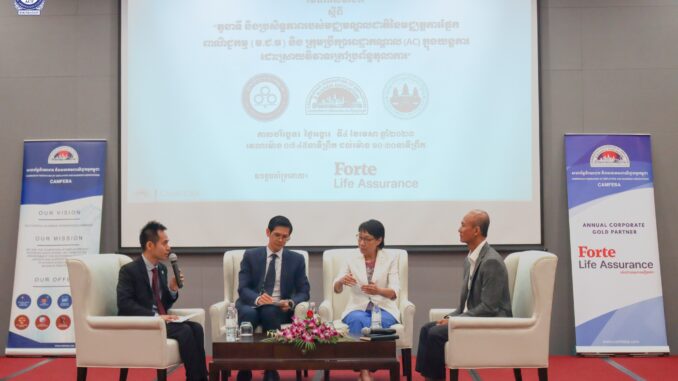 Phnom Penh: On 04th April 2023, Mr. Men Nimmith, Executive Director of the Arbitration Council Foundation, had participated as a speaker in member briefing session of Cambodian Federation of Employers and Business Associations (CAMFEBA) on "The roles and effectiveness of AC and NCAC in the Dispute Resolution Outside the Court System in Cambodia" at Olympia Citi Hotel.
He briefly presented on the role and effectiveness of the AC. He indicated that by 2022, over 3,042 cases, that sent to AC by MoVLT, have been handled with 75.16% successful rate through conciliation and arbitration. The average of dispute resolution is 22 days and 87% of the cases are from the garment/footwear industries.
He also joined in panel discussion moderated by Mr. Sok Lor, CAMFEBA vice president, where he responded to questions from participants related to the AC process.