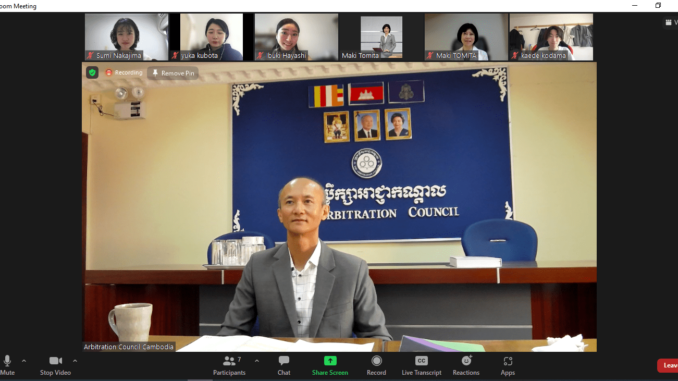 In the morning of February 28, 2022, the Arbitration Council Foundation (ACF) in collaboration with Chuo University​ of Japan, organized a Q&A session on Zoom for a group of law students of the University.
This Q&A session was organized after the ACF produced a lecturing video on Cambodia's Arbitration Council Institution Building and Functioning, presented by Mr. Nimmith in collaboration with the university in December 2021.
The forum provided an opportunity for the students to interact directly with Mr. Men Nimmith, ACF Executive Director to address questions. Key questions raised include: ensuring institutional independence and ethics of the Arbitration Council, decision-making and issuance of the award by the council, disputing parties' awareness of the arbitral awards, differences between binding and non-binding, types of disputes, and cases frequently resolved by the Arbitration Council.
ACF has always facilitated the sharing of knowledge and experience related to the AC's labour dispute resolutions for scholars and researchers at both the national and regional levels to eschange views and improve the understanding of the success of labor dispute resolution in Cambodia.