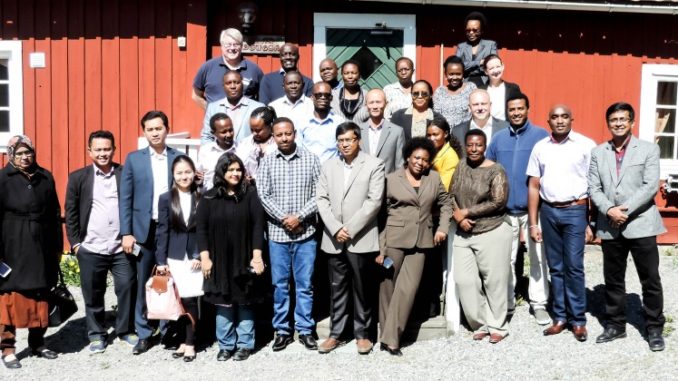 The 'Advanced International Training Programme on Productive Employment and Decent Work for Sustainable Development' took place in May 2017 in Stockholm. Mr. MEN Nimmith, Executive Director of the Arbitration Council Foundation (ACF) attended as ACF representative, and also as a voice of expertise within the participant group regarding Cambodian industrial and labour relations.
"I am proud to be part of the Sida-sponsored International Training Programme. It was a rare training opportunity for my skill and career development. The program provided updated information, analytical skills, tools, and networking opportunities to participants from six countries; four from Africa and two from Asia, as well as Sweden itself. As the representative of a neutral and independent institution, the Arbitration Council Foundation (ACF), I found the courses – labour market information and policy, institutional strengthening, roles of social dialogue, and the discussions of cross-cutting gender equality, anti-corruption, sustainable business and environment – to be relevant and valuable for my work and the work of ACF in Cambodia. I also had the chance to learn more about the Global Deal initiative that I see as a new window of opportunity for ACF."
The Global Deal, according to Swedish Embassy, is a global initiative with the objective of jointly addressing the challenges in the global labour market and enabling all people to benefit from globalization. The Global Deal is a multi-stakeholder partnership that aims to encourage governments, businesses, unions and other organizations to make concrete commitments to enhance social dialogue. The Global Deal offers a win-win-win opportunity for all actors on the labour market.
ACF, in cooperation with the Swedish Embassy, Sida, the Ministry of Labour and Vocational Training, and many other stakeholders, provides a range of services directly to the Arbitration Council and social partners—employers and workers—who use the Council's dispute resolution services. So, by design, ACF is in the centre of the Cambodian tripartite labour relations, which is a suitable portfolio for further cooperation with the above tripartite stakeholders and beyond under the Global Deal initiative (www.theglobaldeal.com).