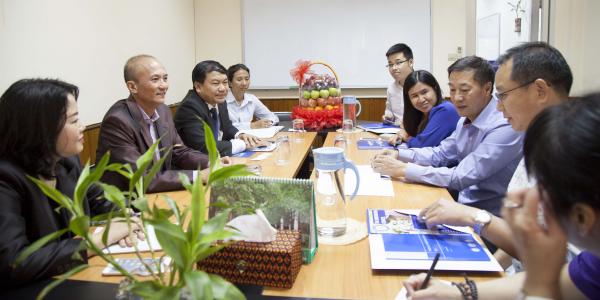 Phnom Penh – On 20 October 2015, the Arbitration Council and Arbitration Council Foundation (AC/F) warmly welcomed a delegation from the People's Republic of China (PRC) led by Grand Senior Justice Shi Wen, Director of the Hainan Arbitration Commission and Chairman of China-ASEAN Legal Cooperation Center, along with his senior officers from both organisations to introduce the two PRC institutions, inform, and seek cooperation with AC/F in the near future when a branch office of China-ASEAN Legal Cooperation Center will be established in Cambodia.
During the meeting, AC/F representatives Mr. Men Nimmith, ACF Acting Executive Director, Arbitrators Tuon Siphann, Sin Kimsean, Ann Vireak and Seng Vouch Hun, and Pen Savat, SAC representative shared initial idea of AC/F setup and progress, structure of AC and ACF, process of alternative dispute resolution in Cambodia, AC/F contribution to stability in industrial relations through both reliable resolution service and proactive steps to prevent dispute including training and capacity building for party to strengthen workplace cooperation as well as encouragement to resolve dispute at factory floor level.
In exchange the PRC delegation provided an overview of relevant issues including commercial arbitration practices, workloads/cases of individual disputes, as well as the overall economic situation in Hainan.
Mr. Tuon Siphann and Mr. Men Nimmith, on behalf of the AC/F, looked forward to further cooperation and friendship between the China-ASEAN Legal Cooperation Center and AC/F.